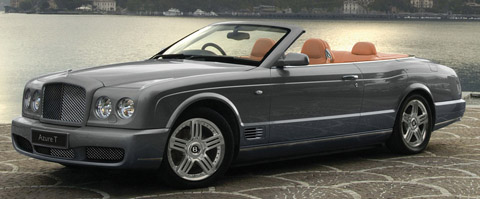 The 2009 Bentley Azure T is a stylish and powerful car which is also considered as the one of the elegant convertible in the world.
The body of the Bentley Azure T is made of aluminum and the shape looks a bit muscular and the car is available in 42 different colors. The Bentley Azure T features a soft top which is operated by a switch and it can be opened or closed in 25 seconds.
The Bentley Azure T consists of a Twin-Turbo V8 engine with a capacity of 6761 cc. The engine is hand made and it comes out in black color. The engine delivers an output power of 500 bhp at 4200 rpm and 738 lb-ft torque at 3200 rpm. The Bentley Azure T reaches the speed of 60 mph in 5.2 seconds and the top speed is about 179 mph.
The Bentley Azure T features a 6-speed ZF Automatic transmission and there are three transmission modes which are Drive mode, Manual mode and Sports Mode. These modes can be selected depending upon the driving and road conditions. The gear shifts can be performed easily and smoothly even at higher loads.