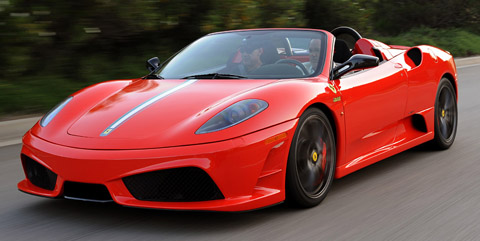 The 2009 Ferrari Scuderia Spider 16M is a high performance sports car.
The body of the Scuderia Spider 16M is made of carbon fiber, it features a powerful engine, stylish body structure, alloy wheels and an open top.
The Scuderia Spider 16M features an open top and it is also the fastest moving open top car in the Ferrari. The open top is operated by the touch of a button and it can be opened or closed within a few seconds.
The Scuderia Spider 16M features a V8 engine with a capacity of 4308 cc. The engine delivers an output power of 510 bhp at 8500 rpm and 347 lb-ft torque at 5250 rpm. It reaches the speed of 60 mph in 3.6 seconds and the top speed is about 195 mph. The Scuderia Spider 16M features 6-Speed F1 transmission and the gear shifts can be performed easily and quickly even at higher speeds and loads.