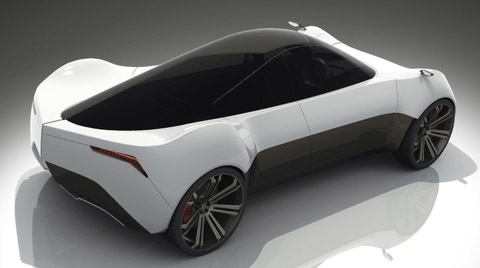 The 2009 GT Crossover Concept Design by Sam Johnson redefines the concept of a sports utility vehicle. It packs performance and style into an off-road-capable all-wheel-drive uber package. Turning all wheels is a 190-horsepower electric motor that can reach 60 mph in 6 seconds.
Like most concept cars, the design looks futuristic yet it can be suitably used by working professionals as an urban car most days of the week. It's also a functional weekend warrior which can provide ample space for bulky sports equipment like a surfboard or two and other gear. The GT Crossover takes as little as five dollars to charge to attain a range beyond 300 miles.
Indeed, with the advent of modern-day SUVs developed for urban users who reserve it for city driving rather than off-road adventure or sports utility, the 2009 GT Crossover emerges as a great option. It changes the traditional view about SUVs by creating a sleek yet practical and affordable road warrior for a broad range of consumers. The GT Crossover captivates. It is asymmetrically designed and uses a tandem formation, with the cockpit situated at the right and the left may be utilized for storage purposes. Get the most from the 1009 GT Crossover's 4500 x 1800 x 1380mm dimensions.