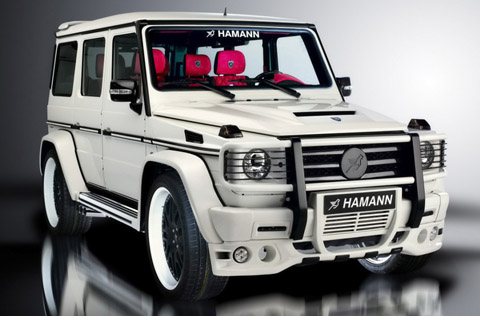 The 2009 HAMANN Mercedes-Benz AMG G55 Supercharged is a new addition to the G model. This line, which celebrated it 30th anniversary recently, was the target of the company, HAMANN, for its refining program. The resulting vehicle is a sight to behold.
The exterior look was completed with the company making adjustments to the aerodynamic kit's components. They added two LED running lights at the front spoiler while they reduced the lifting forces of the vehicle. Fender extensions were also added to the front and back axle.
The engine was upgraded into a 5.4 liter V8 engine with about 600 horsepower. It could accelerate from 0 to 62 mph at only 5.1 seconds. At 3,000 to 5,200 rpm, this car has a torque of 782 Nm. This vehicle has an average top speed of 162 miles per hour. The company used its specialized rims, called Design Edition Race "Anodized" 24, for the aluminum wheel. They also customized the interior design of the vehicle, using fine aluminum for accent pieces. The stainless steel door sill ledges carry the HAMANN logo. This is also seen in the embroidered floor mats used in the vehicle.
The overall result gives a sporty yet classy, harsh yet elegant appeal as an all-terrain vehicle.