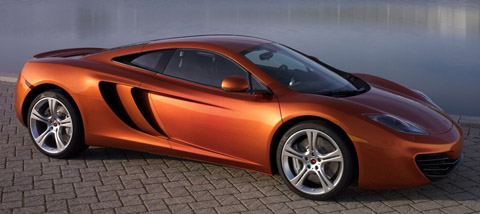 Many sports cars of the older generation are now being changed into new and innovative designs fit for the 21st century. The 2011 McLaren MP4-12C tackles both the authenticity of McLaren cars and taking F1 design to a new level.
The 2011 McLaren MP4-12C has many fresh features that will excite aficionados of the brand. Every part of the sports car is manufactured and designed by the car company itself. The chassis is now made using a Carbon MonoCell called 12C MonoCell. The structure is more slender than former models, which in turn allows the car to be maneuvered and positioned easier on the road. It uses a 3.8 litre M838T engine. This engine produces a horsepower of about 600 because of its V8 twin turbochargers. It is capable of accelerating from 0 to 60 mph in less than 3.5 seconds and reach a top speed of more than 200 mph. The price will range between £125,000 and £175,000.
Lightness is integrated into the design of the car. This can be seen in various parts all over the car. The chassis made out of the 12C MonoCell lowers the weight of the car. This also limits the area between the driver and passenger seats, which then makes the body more compact and light. The use of forged aluminum hubs for brakes reduces car mass by 8 kilograms. The car also uses a condensed engine which reduces the length and weight of the vehicle.